So you're an Amazon seller looking for the best, most cost-effective ways to promote your products and drive sales? Excellent! Buckle up because we're answering one burning question (and all it entails): What is Amazon Live? And more importantly, how can you use it to boost engagement, enhance brand awareness, and increase conversions in a real and practical way?  We'll answer all those questions and more in this comprehensive guide. 
You'll learn everything from signing up and creating live streams to using promo codes, understanding analytics, and growing your following. We've even included some top-notch tips and hacks for success. Ready to learn about the Amazon Live streaming platform, Creator app, and everything in between? Let's get started!

What is Amazon Live?
Amazon Live is a live streaming service allowing US creators to present products, promote their brand, and encourage sales. It's available through the free Amazon Live Creator app (which is currently only compatible with Apple iPhones). The platform closes the gap between online shoppers and brands. It allows hosts to entertain, inform, and engage their audience in real-time with interactive live streams to:
Showcase products and features

Present demonstrations.

Hold Q&A sessions.

Run promotions and more.
So, what is Amazon Live in terms of marketing? It's a brand content solution designed to help you connect with shoppers and drive product discovery. You can use it as part of your wider mid-funnel marketing strategy in conjunction with:
Amazon Sponsored Brands to promote your brand.
Where do Amazon Live Streams Appear?
Shoppers can browse all live streams on the dedicated platform at Amazon.com/live or under 'Amazon Live' on the Amazon mobile app. Streams can also appear in various placements on Amazon.com, including the homepage, your brand's product detail pages, and influencer storefronts. Amazon-produced live streams have prominent placements across relevant category pages, event pages, and Amazon's homepage.
What is the Amazon Live Creator App?
The Amazon Live Creator app is a free application for brands and influencers to create and manage their Amazon Live streams. It's loaded with all the features you need to showcase your products, interact with shoppers, measure performance, and drive sales. Here are some handy features worth noting:
Product carousel

to showcase your offerings.

Analytics dashboard

with customizable performance tracking.

Multiple promo codes

to share with viewers during streams.

Interactive chat

to connect with customers in real-time.
Amazon Live's Top Benefits for Sellers
Around 38.2% of US consumers use live streams to buy and discover new products. Meanwhile, 30.7% cite the exciting shopping experience as the main attraction.  Amazon Live offers loads of benefits for sellers. It's entirely free; you can live stream as often and whenever you like, and customers can opt-in to follow you. But what is Amazon Live's greatest advantage? You decide. Here's how you can use this streaming platform to grow your business:
Stay Competitive and Expand Your Audience
When you go live, your stream appears on the high-traffic Amazon Live page, automatically exposing your brand to more potential customers. Use your product carousel to promote special deals and discounts, enticing viewers to click on your listings.
Enhance Trust and Build Brand Awareness
You can use Amazon Live to showcase your products, demonstrate their features, and provide valuable tips and information. It's also an opportunity to drive home your brand's unique selling points while cultivating a more meaningful community.
Connect With Customers in Real-Time
With the Amazon Live streaming platform, you can answer questions, offer insights, and provide valuable information about your products. This real-time connection goes a long way in nurturing relationships with your audience. Informed customers mean better conversions. 
Reach Untapped Markets and Drive Sales
Shoppers can watch your streams from anywhere in the world, meaning more sales opportunities. By creating engaging video content, you can tap into new markets and expand your reach even further. Plus, you can share your streams on other marketing channels.
Who Can Use Amazon Live?
The Amazon Live Creator app is available to users in the US as follows:
Professional Amazon Sellers

with a brand registered on Amazon Brand Registry.

Amazon Vendors

with an Amazon Store via the Advertising Console.

Amazon Influencers

with an active Amazon Influencer Storefront. 

Guest creators

such as third-party sellers and agencies.
Sign Up for Amazon Live in 3 Easy Steps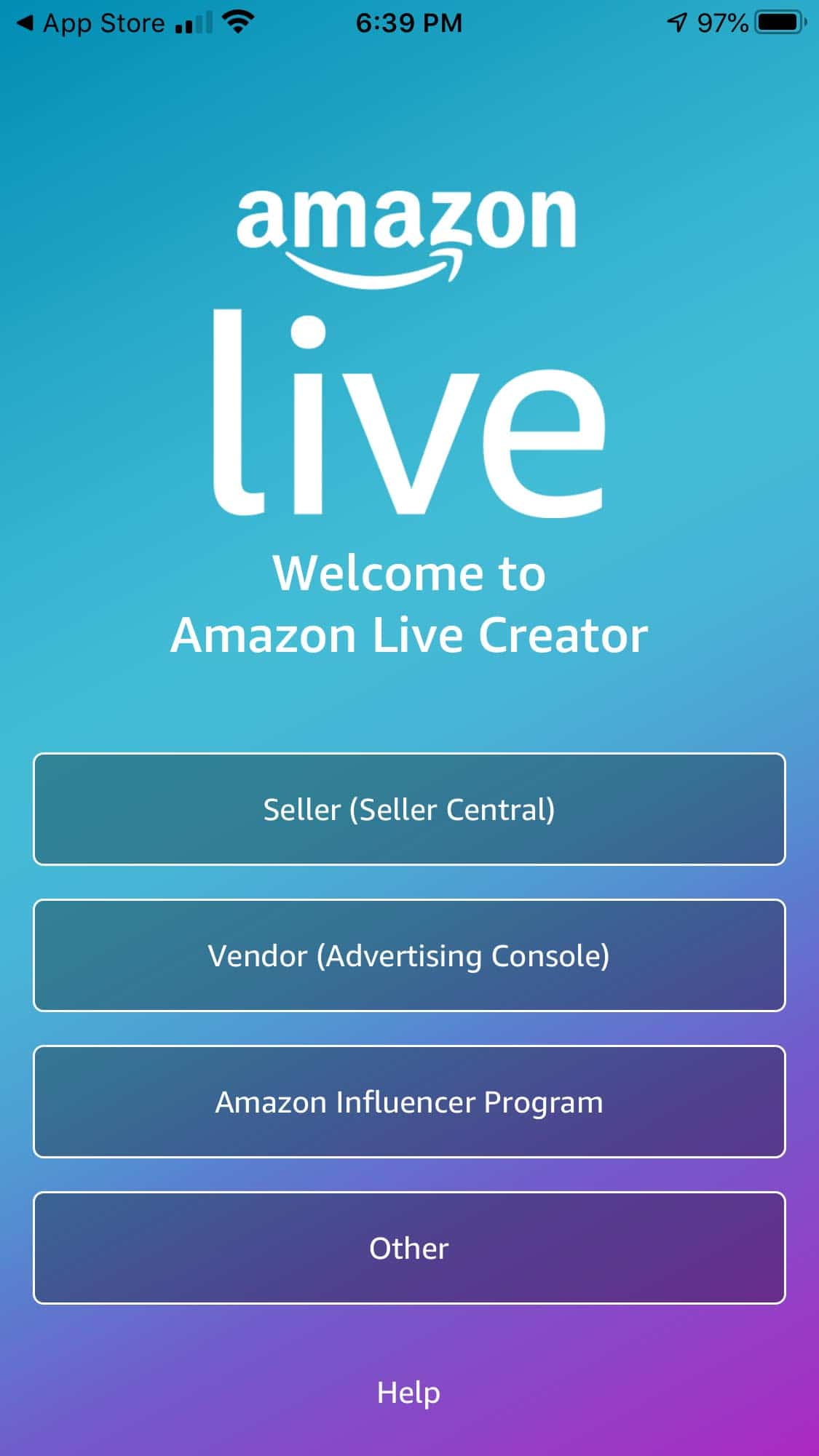 Getting started with Amazon Live is super simple. Here's how:
Step 1:

Use your iPhone to download the latest version of the

Amazon Live Creator App

from the

Apple Store

.

Step 2:

Choose an option and sign in with your seller, influencer, or vendor credentials.

Step 3:

You'll see your dashboard with an overview of your Amazon Live level (more on that later) and analytics. You're almost ready to start streaming.
READY TO TAKE THE NEXT STEP?
Schedule Your Free Amazon Strategy Session
Streaming on Amazon Live: Prep, Action, Results
What is the Live Creator app all about? Streaming! You'll need to do some prep beforehand, though. For starters, familiarize yourself with Amazon's Community Policy. It contains all the dos and don'ts to keep in mind.
Before Starting a Live Stream
A successful live stream requires a few practical, technical, and marketing considerations. Create a plan that covers everything from talking points and products to promotions and scheduling. Here are a few more pointers:
Check your internet connection:

Run a connectivity test, and don't share your WiFi during your stream.

Confirm your sound and video quality:

Reduce ambient noise, avoid streaming against windows and other light sources, and use encoder software for the highest-quality streams.

Prepare your iPhone:

Charge it fully

beforehand and set it to "Do Not Disturb" during your live stream. Don't exit the app once you go live.

Use Practice Mode:

Do a "dry run" from start to finish to test the technical stuff and get comfortable in front of the camera.

Enlist help:

If possible, get someone to help out during your live. They can answer questions in the chat, highlight products, and relay questions on-screen.
Creating a Live Stream
When you're ready, tap the '+' button at the bottom center of the Amazon Live Creator app to create a new live stream. Alternatively, you can schedule one for later. 
Next, enter all the requested details in the live screen scheduler, such as:
A live stream title, thumbnail image, and start time.

Products you want to feature in your live stream, starting from the most to the least important.

Your video source.

Any applicable promo codes.
Hit "Save," and you'll see all your live stream's details, along with two new options:
Boost Your Live Stream:

A paid-for feature that displays your streaming video across relevant pages on Amazon.com and the mobile shopping app.

Engage with Viewers:

Contains a link for you to share on other channels like your email list or social media platforms. You'll also see the "Promo Code" option.
Next, tap "Preview" and check that everything is correct. When you're ready, take a deep breath and hit the "Go Live" button.
While You're Live
You're now live on the Amazon streaming platform! You can log into your app with a second device to answer your chats and share promo codes. You can also highlight a product in your carousel by clicking on it, which brings it into your audience's view.
After You're Live
When your live stream ends, it'll be available on your channel page and may appear on Amazon.com/live. You can download it, edit the title or image, or delete it.
How to Use Amazon Live Promo Codes
What is an Amazon Live promo code? It's a discount coupon used to excite viewers and promote products during a live stream. Sellers can only use Social Media Promo Codes on the Live Creator App. Get yours by going to Seller Central, then "Advertising." Choose "Promotions" and finally, "Social Media Promo Code."
Once generated, you can incorporate multiple promo codes into your live streams via your app:
Create a new live stream

, and under "Engage with Viewers," tap "Get started" next to "Promo Codes." 

Follow the on-screen prompts

to activate all your codes. You can toggle them on or off during your live stream using your app.

W

hen you share a promo cod

e, a banner appears at the top of the live stream screen with a "Claim Now" button for customers.
What are Amazon Live Levels?
Amazon Live Levels form part of a rewards program offering benefits like better live stream placements at each tier. When you first sign up, you're a Rising Star. Once you meet the minimum requirements, you can apply to level up to Insider and, finally, A-List.
Understanding Amazon Live Analytics
The Amazon Live Creator App features an analytics dashboard where you can see performance metrics for the past 30 days, such as:
Direct sales from live streams.

Live views, including average view duration and muted views.

Product clicks and click-through rates.
Analyze these metrics regularly to see what's working, what's not, and where you can improve.
5 Best Practices For Amazon Live Success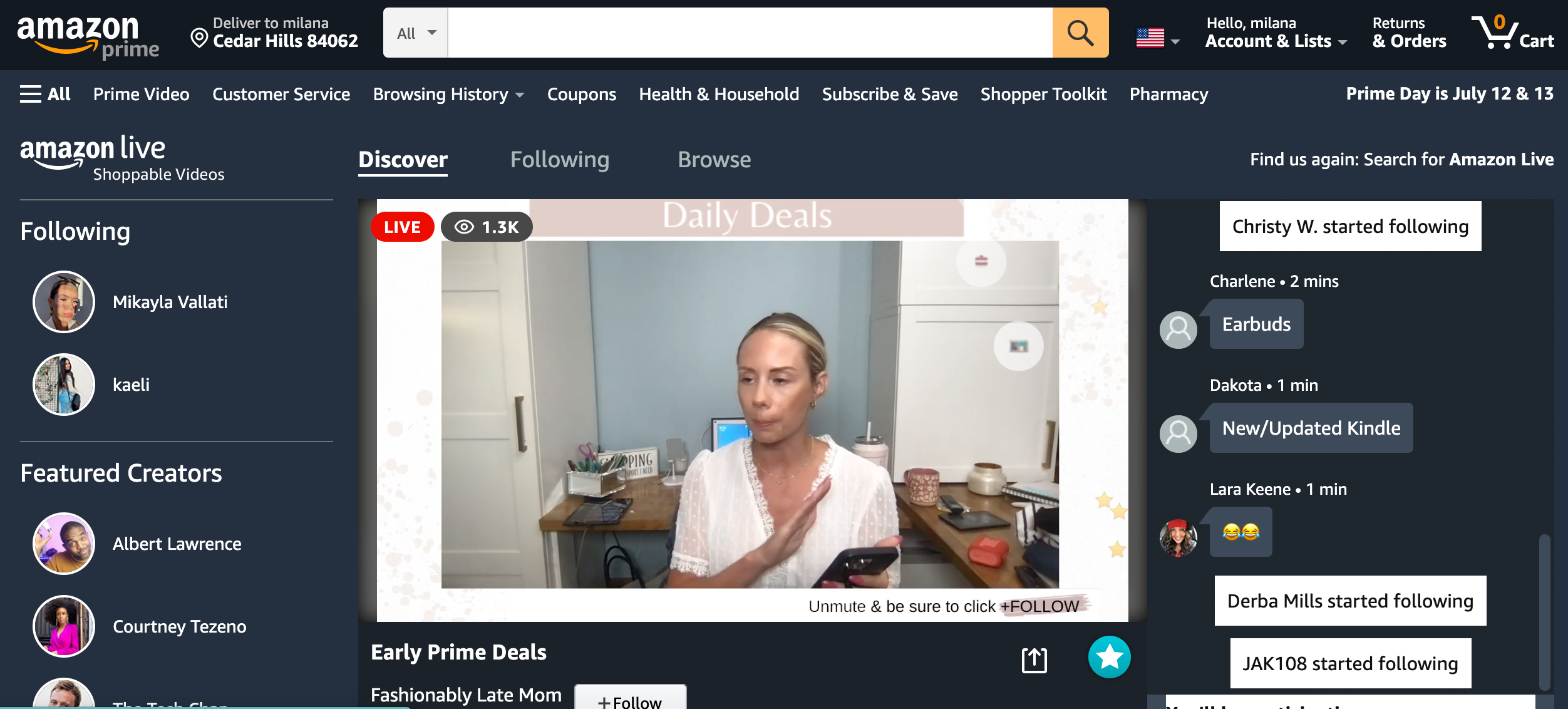 What is Amazon Live success, and how do you get it? Check out these vital pointers.
Have a Clear Purpose
Are you trying to sell a product? Promote a service? Give a demonstration? Knowing what you want to accomplish with your live stream will help you better engage with your audience. Whether you're looking to sell items, build brand awareness, or connect with customers, make sure your live stream aligns with your goals. It's also a good idea to feature products on sale and use promo codes to create excitement.
Be Organized and Professional
No one wants to watch a chaotic mess, so take some time to plan out your live stream before hitting that "Go Live" button.
Have a clear introduction, stay on topic, and use high-quality video and audio. If you're selling products, be prepared with the necessary information, such as pricing, shipping, and return policies. The Amazon streaming platform is interactive for a reason. Engage with your audience throughout your broadcast by taking and asking questions, giving shout-outs, and providing valuable information.
Apply the 30-Minute Rule
The average person's attention span is only eight seconds. So, you'll need to work hard to keep viewers engaged on the Amazon Live streaming platform. A good rule of thumb is to make your broadcast at least 30 minutes long. This gives you enough time to chat with your audience, repeat key messages, and promote your products or services.
Demonstrate Your Products
Striking visual elements, unexpected settings, and out-of-the-box demonstrations are all memory-making aspects you can leverage. Let your creativity shine so your brand and products live rent-free in your audience's minds. Show product features in action. Don't just talk about them. Find unique ways to grab and keep your viewers' attention.  
Use Calls to Action
Encourage viewers to become customers and drive sales by including calls to action throughout a broadcast. You can also use the Amazon Live Creator app to highlight products, offer live-only deals, and display promo codes. And don't forget to sell! Restate key messages, demonstrate product features, and encourage your audience to interact. 
4 Live Streaming Hacks For Amazon Live Creators
Looking for a little inspiration to level up and stand out from the rest? Give one of these hacks a try on the Amazon streaming platform:
Build Excitement and Market Ahead
Use your social media handles, email lists, and network to build anticipation and excitement ahead of a live stream event. Keep the details clear, use sneak peeks, and offer incentives. You can also create a virtual countdown.
Set Up a Challenge
People love challenges. It can be silly and fun or more serious, depending on your niche and target audience. But relevance is key here, so choose something that incorporates your products or services and promote it across various channels.
Invite a Guest
Leverage your network and find an expert, influencer, or someone interesting to join your stream. Hold a live interview, get your viewers excited, and tap into your guest's audience too.
Hold a Contest
Who doesn't love prizes? Giveaway contests are a fun and easy way to promote your products and raise brand awareness. Use the Amazon Live streaming platform to announce winners and encourage sales.
3 Tips to Grow Your Following on Amazon Live
Growing your following is vital to expand your viewership and attract repeat customers. Here are a few handy tips:
Share Tune-In Posts Across Channels
Let viewers know when you're going live. Get a shareable link from the Amazon Live Creator app to post across all your channels and attract new viewers.
Incentivize Your Audience
Add value to shoppers and host live-only sales on featured products. Do it consistently, and you're bound to attract new followers.
Implement a Multi-Channel Strategy
Encourage audiences on other social media or online platforms to follow you on Amazon Live. Do it verbally, in posts, emails, and videos.
2 Ways to Promote Your Amazon Livestream 
What is Amazon Live without viewers? Not to worry. Here are two ways to promote your live stream:
You can increase viewership by

taking advantage of Amazon's SEO algorithm to

move your live stream to the top of search results.

You can also

partner with other brands or influencers

who have a large following on social media.
1 Decision Left: Start Using Amazon Live Today
Live commerce is still a relatively new concept. But in an increasingly competitive landscape, it's fast becoming a must-have. Can you really afford to opt out? Amazon Live is a free, easy, and incredibly useful tool that gives a new dimension to e-commerce sales. Signing up via the app is simple, and the live streaming features are user-friendly.
So what are you waiting for? Get started today! Download the Amazon Live Creator app and take your business to new heights. If you're ready to reimagine your Amazon strategy and get tangible results, contact us for a free strategy call.